Mosquito Magnet® Independence Information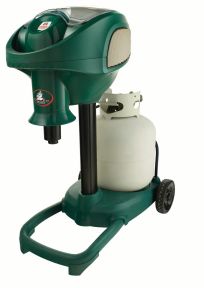 Buy Now »
Extra Tips
Airflow is important. Keep side vents, plume tube, and net clean. Standard Maintenance tips apply.
The net is more durable but the netting still needs to be installed correctly and be free of pollen and bug debris.
When starting the trap, be sure to use brand new, high-quality batteries as the startup will drain them significantly.
Once the trap is started, the batteries may be removed to prevent corrosion in the battery compartment and to preserve any battery charge that remains. The trap does not need batteries to continue running, only for the initial startup.
When turning off the trap for maintenance, wait at least one hour before starting it up again to allow it to avoid overheating the internal components.
Parts included:
Independence Power Head
Support Pole
Base Assembly
Tank Support
4 'C' Alkaline Batteries
Net
Plume Tube (Pre Installed)
Octenol Biting Insect Attractant (EPA Reg. No.72563-1)
Specs
Weight
32.93 lb (14.93 kg)
Height
21.20 inches
Length
23.97 inches
Width
18.60 inches
Area Covered
up to 1 acre
Power Source

Self-contained trap

Thermoelectric Module
4 'C' Batteries (included)

Warranty
Limited one-year warranty