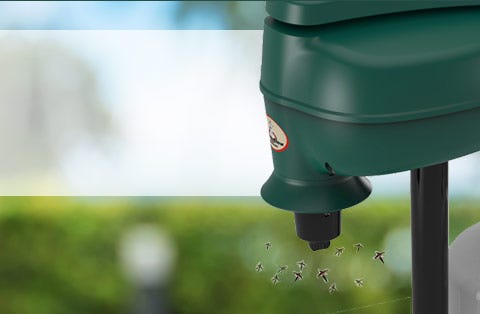 Attracts. Captures. Kills.
Our Mission
Mosquito Magnet® strives to design innovative mosquito control solutions that can help consumers win the battle against persistent and potentially dangerous pests.
About Us
For over 15 years, Mosquito Magnet® has been dedicated to providing solutions to reduce the population of mosquitoes.
Mosquito Magnet® is the first carbon dioxide-based biting insect trap for commercial use and the first propane-powered mosquito trap for consumer use. Our original Counterflow technology™ makes the traps unique, using a precise amount of carbon dioxide, heat, attractant and moisture while simultaneously vacuuming insects into a net. Today Mosquito Magnet® is the leading biting insect trap and is the only long-term solution that is scientifically proven to effectively reduce mosquitoes and other biting insects.
Extensive evidence from independent research studies as well as data testimonials from the USDA, U.S. Army, Navy and Coast Guard, the Centers for Disease Control, numerous universities and state mosquito control agencies, health departments, and independent nationally-renowned entomologists around the world have verified the efficacy of the Mosquito Magnet® product.
Family of Brands