Mosquito Magnet® Executive Mosquito Trap
Mosquito Magnet® Executive Mosquito Trap
11
3.1
5
1
Earn 19440 rewards points on your purchase! Learn More
Attracts and captures mosquitoes and other biting insects like midges, black flies and no-see-ums
Features the Mosquito Magnet patented Catalytic Converter - converts propane into carbon dioxide (propane tank not included), heat, and moisture to simulate human breath
"Smart Technology" offers 5 different user-friendly digital setting options - including 4 fuel savings modes that extend the life of your propane tank.
Can automatically start-up/power-down by itself when the temperature reading is above/below 50°F
New net provides easy disposal, eliminating interaction with insects.
Cordless. Ideal for larger yards - protects up to 1 acre
Mosquito Magnet® Executive Trap
The advanced Mosquito Magnet® Executive features Smart Technology, 4 fuel saving modes controlled via an easy-to-read LCD panel and a durable rigid net. These features can extend the life of accessories and propane up to 40% making this cordless trap a great value.
The Mosquito Magnet® Executive trap protects one full acre of land and is backed by Mosquito Magnet's exclusive 360° Customer Support program, so you can confidently win your battle against mosquitoes.
Key Features: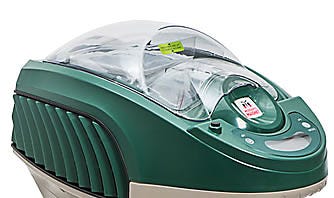 1. Smart Technology
Mosquitoes only become active when the outdoor temperature is at or above 50°F and are most active at dawn. Smart Technology allows the Mosquito Magnet® Executive trap to automatically adjust to these external conditions ensuring optimal mosquito control when it's needed while virtually eliminating propane and attractant waste.
2. Fuel Saving Modes
The Executive offers 4 different fuel saving modes that can be easily set via its LCD panel. These saving modes allow the trap to power down and restart at pre-set times to save propane consumption during mosquito activity off peak hours.
The LCD panel also provides trap maintenance cues so you will always know when it is time to replace the attractant or the net, when the battery is low, the propane is out or even if the propane nozzle is clogged.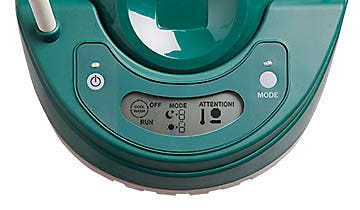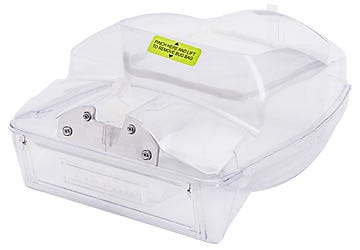 3. Self-Contained Rigid Net
The Executive's Mosquito Morgue™ net is engineered to maximize continuous, unblocked airflow - critical to the performance of the trap. This innovative net also allows for easy disposal, eliminating any interaction with mosquitos and features increased capacity, which extends its life up to 40%.
4. Convenient Cordless Design
This cordless trap is powered by a rechargeable Nickel Metal Hydride Battery. This convenient feature allows for proper placement of the trap without needing an electrical outlet nearby or using extension cords that can interfere with lawn maintenance.
5. Easy Assembly
Mosquito Magnet® traps are truly easy-to-set and operate. Assembling is done in just 3 quick steps. Once started, your trap will begin working immediately with noticeable results in 7-10 days. Allow a 4-week time frame to see significant reduction in your mosquito population. For optimal results, run your trap 24 hours a day initially in order to break the breeding cycle of the mosquitoes.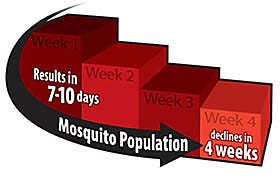 Increase Your Catch Rate With The Right Accessories
Using the proper secondary attractant is proven to increase your mosquito catch rate by up to 10 times. These attractants lure mosquitoes to the trap by mimicking human skin scents and other natural odors.
Mosquito Magnet® attractants are the only brand to be EPA-registered and proven effective. This buying guide assists you in making the right decision based on your location and other factors.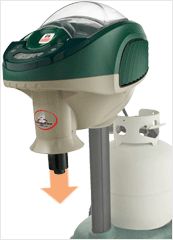 The Mosquito Magnet® Advantage
CounterFlow™ Technology
Mosquito Magnet® traps are backed by over 20 years of research and 15 patents that make our traps technologically advanced.
Mosquito Magnet® traps work by mimicking the way humans attract mosquitoes. Through its exclusive patented CounterFlow™ technology the trap converts propane into CO2, mixes it with the precise level of heat, moisture and attractant to lure mosquitoes to the trap and then vacuums mosquitoes into the net where they dehydrate and die.
Watch How it Works Video »

WARNING: This product can expose you to chemicals including lead and lead compounds, which are known to the State of California to cause birth defects or other reproductive harm. For more information go to www.P65Warnings.ca.govwww.P65Warnings.ca.gov.
Mosquito Magnet® Executive Trap
Model #
MM3300B
Purchase Includes

Executive Trap
1 Octenol Attractant
1 Self-Contained Rigid Net
Custom Rechargeable Battery
Remote Battery Charger
Product Manual
Maintenance Schedule
Instruction Hang Tags
NOTE: Propane tank NOT included
How do you clean out the bug bag without having the mosquitos come back out? Are extra bug bags available for purchase?
Question by: Doreen on Jun 8, 2019, 8:00 PM
Mosquitoes inside the bug bag will die within approximately 24 hours. Simply pull out the plastic bug bag and ensure the front flap remains closed. Additional nets can be purchased so you can simply swap them out inside your unit.
Answer by: Woodstream (Admin) on Jun 9, 2019, 8:00 PM
I've had the patriot for years and just bought the Executive from one of your resellers. I want to put 3 in our yard and have a large propane tank that feeds all 3 via an underground gas feed. My propane supplier is asking if you have some kind of a converter kit as we would need to hook their connection to the Executive and right now your connection only connects to a small propane tank. Can you let me know if you have a converter kit for such a hook up or do you have a suggestion of what I can buy in the market?
Question by: Robin Russell on Oct 21, 2019, 8:00 PM
We do not recommend converting your traps to accommodate this. We recommend taking a look at our article Propane Tank Tips for more information on why you should only use a 20lb tank with your traps. For more information, feel free to give our Customer Relations Team a call at (800) 953-5737.
Answer by: Woodstream (Admin) on Oct 22, 2019, 8:00 PM
mme can use indoor? also what is the co2 output for mme
Question by: ryan on Mar 21, 2021, 8:00 PM
This product is for outdoor use only. The exact output of CO2 is proprietary.
Answer by: Woodstream (Admin) on Mar 21, 2021, 8:00 PM
I live in the just north of New York City. The mosquitoes in our neighborhood are very aggressive. They are active all day long. What lure do you suggest that I get? Thanks for your help.
Question by: Craig on Jul 9, 2019, 8:00 PM
We recommend our Octenol or R-Octenol. These attractants work best for the night-biting mosquitoes found in these areas. Octenol should be replaced every 21 days, while the R-Octenol lasts up to 30 days and is ideal for use with the fuel saving mode of our Executive trap.
Answer by: Woodstream (Admin) on Dec 8, 2020, 7:00 PM
My regulator hose has a lot of nicks and cracks. Can I get a replacement hose?
Question by: Keith Barrand on Jul 25, 2019, 8:00 PM
While this is not available on our site, some of our Certified Service Centers may sell the regulator hose. Please click here to find the closest Certified Service Center to your location. If you prefer to have your trap repaired by certified technician, give us a call at (800) 953-5737 do discuss our different repair options.
Answer by: Woodstream (Admin) on Jul 25, 2019, 8:00 PM