Mosquito Magnet® Commander Information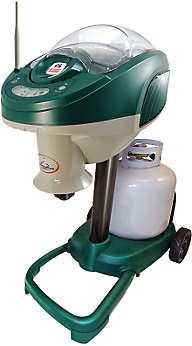 Extra Tips
Airflow is important. Keep side vents, plume tube, and net clean. Standard Maintenance tips apply.
The net is more durable but the netting still needs to be installed correctly and be free of pollen and bug debris.
Although the Fuel Saving modes are available, we recommend running it 24/7 for the first tank so that the mosquito population is impacted.
The Cold Temperature Indicator will shut down the trap when the ENGINE, not the outside temp, reaches 50

°

and will restart when the ENGINE reaches 55

°

.
When the trap does shutdown for Cold Temp or Fuel Saving modes, the fan will continue to run to ensure no mosquitoes escape. If the battery becomes low, the trap will restart to avoid total shutdown.
Mosquito Magnet® Commander Compatible Routers
ASUS Dual-Band RT-N66U
Belkin N300
iRouter
Linksys E1200
Linksys N900
Linksys WRT 120N
Linksys WRT310N
Linksys WRT54G2 V1
NETGEAR G54/N150 WNR1000
Netgear N150
Netgear N300
NETGEAR N300 WNR3500L
Nighthawk AC1900
TP-Link 150 Mbps TL-WR741ND
TP-Link 300 Mbps TL-WR841N
Parts Included:
Commander Power Head
Support Pole
Base Assembly
Tank Support
NIHM Battery pack
Remote Battery Charger
Net
Plume Tube (Pre Installed)
Octenol Biting Insect Attractant (EPA Reg. No.72563-1)
Specs
Weight
32.93 lb (14.93 kg)
Height
21.20 inches
Width
18.60 inches
Length
23.97 inches
Area Covered
up to 1 acre
Power Source

Self-contained trap

Thermoelectric Module
NIMH Battery Pack

Warranty
Limited two-year warranty