Mosquito Magnet® Liberty
The Net is not installed properly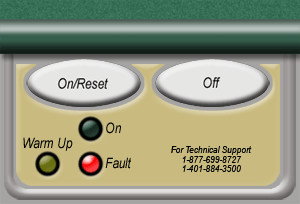 This error indicates that the Net is not installed properly or needs to be replaced. NOTE: This error applies to models made 2003 and beyond only. Newer Mosquito Magnet® Liberty models do not have this feature.
How to fix if net is not installed properly.
Shut off trap and unplug from the wall outlet.
Open clear door by turning the handle a quarter turn clockwise.
Remove the Net.
There is a small switch that looks like a roller on the outside of the opening where you slide the Net into place.
When you slide the Net down on to the holder the Tab on the Net frame must hit the Net switch.
If you have tried this several times and still get the same fault, you may need to replace the Net.
To get replacement Nets
Visit your Local Dealer
Check out our Online Store
Call Dedicated Customer Support
Do not return your product to the store. Our 360° Customer Support Network is ready to help you! Call our 800-953-5737 and let our Dedicated Customer Support help you "Take Back Your Yard!".