Mosquito Magnet® Independence
Gas is empty / Insufficient gas flow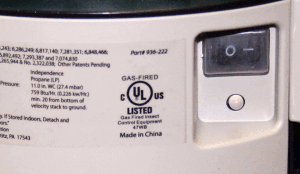 This fault code could be caused by one of the following problems.
Tank Empty - Typically a propane tank will last from 20 to 21 days. If the tank did not last a full 20-21 days then have the tank purged and then filled. For more information Click Here.
OPD Valve lockout - If the OPD valve has become locked out then you will need to disconnect and reconnect the regulator from the tank.
Clogged Carburetor
If the carburetor has become clogged then no gas may flow into the Burner Box. This is caused by impurities in the propane that collect around the opening on the carburetor.
Warm Trap - If you have a second tank and you shut the trap off, change the tanks and start the trap you may get a gas empty code and there may not be a problem. Occasionally the trap may not restart if it is still warm. Allow the trap to cool off for 1 hour then try again.
Other Problem – If, after trying to resolve your issue with the above steps you still continue to get the same fault, there may be an internal issue with your unit. If you continue to get this fault, please contact our Dedicated Customer Support call center for additional assistance.
Do not return your product to the store. Our 360° Customer Support Network is ready to help you! Call our 800-953-5737 and let our Dedicated Customer Support help you "Take Back Your Yard!".