When Should I Start My Mosquito Magnet® Trap?
Is it time to start your Mosquito Magnet® CO2 mosquito trap yet? How can you tell when the mosquitoes and biting insects are coming? What are the conditions that make mosquitoes worse? Mosquito trap owners ask themselves these questions every year, and Mosquito Magnet® has the answers!
Want to know when you should start your mosquito trap? There are six key indicators to let you know when to get your Mosquito Magnet® trap up and running:
1 – AFTER YOU'VE PERFORMED A TRAP CHECKUP
Each spring, just before mosquito season hits your area, you should take a few minutes to prepare your Mosquito Magnet® trap for its busy season. This check-up will help your trap run smoothly for the next several months.
During your maintenance check-up, you will remove and replace your net and attractant, reattach the regulator hose, check the power adapter and clear out the fuel line. Also, wipe down your machine to remove debris that could accidentally enter it.
By performing these simple duties, your Mosquito Magnet® is ready to power on and start a fresh season of mosquito trapping.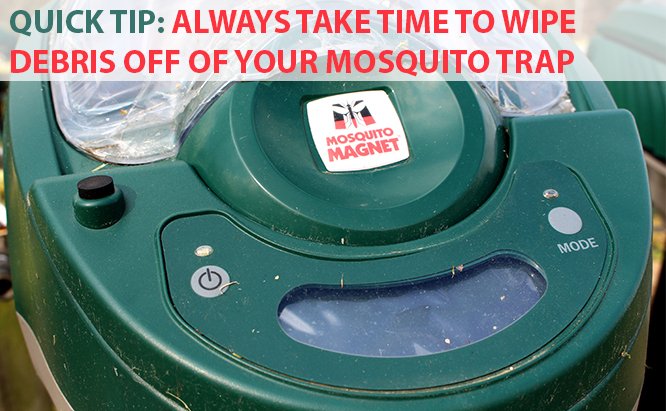 2 – AS TEMPERATURES INCREASE
Mosquitoes become active in different stages depending on your region. As your region's temperature reaches and remains above 50°F for an extended period, mosquitoes will begin to emerge. If you've checked the weather forecast and nighttime temperatures are predicted to meet that threshold, then it's time to start your Mosquito Magnet® CO2 mosquito trap.
3 – WHEN INCUBATION AREAS ARE AVAILABLE
Mosquitoes deposit their eggs in stagnant water, and the eggs develop in as little as two days. No-See-Ums lay their eggs in water, mud or wet sand, which hatch after a few days. Gnats/midges hatch three days after being laid in water.
All these creatures benefit from increased opportunities to incubate their eggs, which usually come about after a heavy rainfall. Storms will create bug-friendly puddles and fill up random objects that hold water. Naturally, insects take full advantage of such events.
When a heavy storm hits, make sure to check that your mosquito trap is up and running and that its catch-net is empty. By the time all those eggs hatch, your machine will be ready to nab them before they nip you!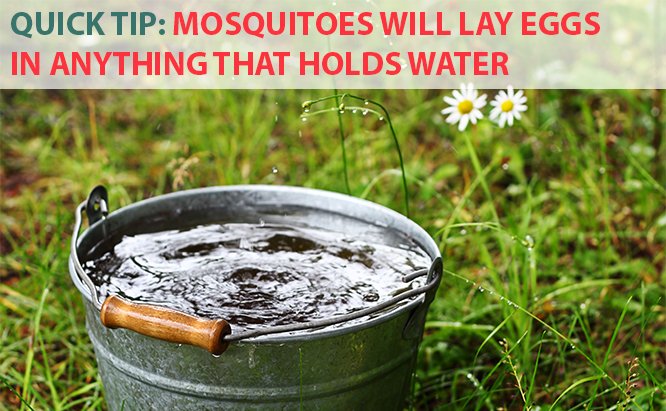 4 – WHEN YOU EXPERIENCE MORE MOSQUITOES
Regardless of the temperature, you may find yourself in a "perfect storm" of mosquito-friendly conditions – when heat, humidity, breeding spaces and a weather pattern all work for mosquitoes instead of against them. The result? Hordes of mosquitoes eager to attack you, your family or anyone who enters your property.
That brings us to the important point about Mosquito Magnet® -- any time is a good time to start your mosquito trap! Turn it on in March, August or November! The time of the year doesn't matter; just make sure you have it on whenever you're experiencing an influx of mosquitoes and biting insects.
5 – TWO DAYS BEFORE YOUR BIG OUTDOOR EVENT
Are you planning an outdoor wedding, graduation party or another outdoor event? With your Mosquito Magnet® cleaned and ready to go, simply determine the best place for your trap. Once in place, get it started and let it run for at least two full days before your guests start to arrive.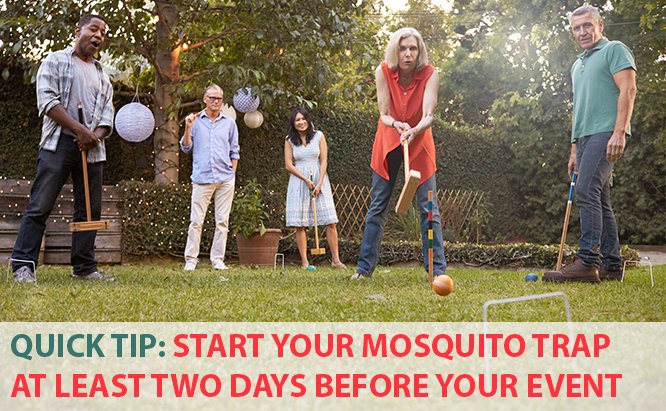 6 – AS YOUR BUSINESS BEGINS ITS OUTDOOR SEASON
If you're a business owner who uses Mosquito Magnet® CO2 mosquito traps to protect your customers and employees from insect bites, make sure your trap is up and running! You'll want to have your trap cleaned and ready for operation at least 48 hours before your season begins.
Once it's running, be sure to order accessories (nets and attractants) in bulk. If you can, order enough supplies to keep your trap running all season long.
Also be sure to train multiple employees on its operation. They will need to know how to change propane, empty nets and add attractant. You want your Mosquito Magnet® trap running at all times!
SUPPLIES & TIPS FOR THE MOSQUITO SEASON
Every Mosquito Magnet® mosquito trap requires certain supplies to keep it running efficiently:
Nets – Be prepared to change catch-nets as soon as they are filled. Dead mosquitoes and other insects can clog the machine and block the airflow. Clogs limit your machine's ability to vacuum and trap more insects.
Attractant – This key accessory uses special chemicals to trick mosquitoes and other biting insects into visiting your trap. When your attractant runs out, it will no longer draw these insects.
Propane Tank – Your mosquito trap uses propane to create CO2 . Expect to change this about every 21 days. It may even be helpful to have a spare tank available nearby. With an extra, you can swap an expended tank with a fresh one right away.
ARE YOU READY FOR MOSQUITO SEASON?
If you're determined to fight back against the mosquitoes this season, then make sure that Mosquito Magnet® is part of your arsenal. Learn more about us by joining Mosquito Magnet® on Facebook and subscribing to the Mosquito Magnet® E-Newsletter, which regularly offers helpful articles selected just for you.
Business owners should check out our Mosquito Control Center for Businesses, where you can learn how Mosquito Magnet® can create a better environment for your customers and employees.