One of the best things about summer is the opportunity to spend time outdoors with family and friends. A backyard barbecue is a great way to gather everyone together to enjoy some beautiful summer weather, fantastic food and good company. Here's how to throw the perfect backyard BBQ this summer: When it comes to décor, simple works best: An outdoor barbecue is a causal occasion, so you'll want to avoid fancy decorations. Try stringing a few white Christmas lights around your deck or patio to create the right ambiance after the sun goes down. If you're planning a Memorial Day or Fourth of July gathering, get some red, white and blue balloons or streamers. You can also create a festive American flag fruit plate using strawberries, blueberries and bananas. Have some background music: A little background music can help set the appropriate mood for your barbecue. Include a wide range of popular music to appeal to various musical tastes, and make sure you don't blare the tunes so loudly that your guests can't engage in conversation.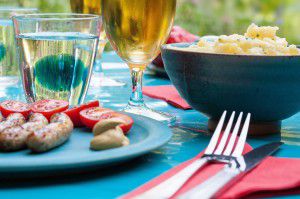 Grill and other essential supplies: Make sure your grill is in good working order. If it has seen better days, consider upgrading to a newer model. Other essential supplies include:
Tables and chairs (encourage your guests to bring their own lawn chairs — too many chairs are always better than too few!)
Paper plates (the sturdier, the better), plastic cups and plastic silverware
Napkins (have plenty on hand)
Salad bowls
Serving utensils
Pitchers
Ice bucket or cooler filled with ice cubes
Food and drink: Burgers, hot dogs and chicken breasts make for ideal grilling fare. You can also slip in an exotic summertime recipe or two for guests who are up for experimentation. Other popular barbecue food items include salads, chips, raw vegetables and dip, and corn on the cob. Have plenty of desserts on hand as well, such as cake, pie, ice cream and summertime fruits including cantaloupe, watermelon and strawberries. And don't forget to stock up on ketchup, mustard, barbecue sauce and other condiments. Another option is to have a potluck barbecue where your guests complement your staple items with their own dishes. Get an idea of what each guest is bringing so you can avoid duplications and make sure you have all of the food bases covered. Make sure you have a wide variety of beverages on hand, both alcoholic and non-alcoholic. The basics are beer, wine, water, soda, tea and lemonade. You can also get festive with a few pitchers of a fruity, summery mixed drink. Make one pitcher with alcohol and one without. Yard games: Backyard games are always a hit at barbecues, especially if kids are attending. Options include cornhole, horseshoes, volleyball, badminton and lawn bowling, to name a few. If you're the inventive type, you can even create your own game. For the less-active folks, table games such as bingo and party board games can provide plenty of entertainment. Mosquito control: Swarms of annoying mosquitoes can quickly ruin a fun outdoor event. Citronella candles and bug zappers can help to a certain extent, but a better mosquito prevention alternative is to create a backyard environment that eliminates the mosquito population. Setting up mosquito traps such as in early spring when the temperature begins to rise can disrupt the mosquito breeding cycle and drastically reduce their numbers throughout the summer season. Here's hoping you have lots of fun — and mosquito-free — backyard barbecues this summer!