Flooding Checklist: How to Stop a Mosquito Outbreak
After a flooding situation, there are many things to take care of on your property. You need to remove mud and debris, clean up what you can and rebuild your life. Unfortunately, another thing that you should address sooner than later is the increased potential for mosquitoes and other biting insects.
Within a week of a flood event, mosquito populations can explode. Mosquitoes will lay their eggs in any stagnant water they find, something that will be in abundance immediately after a storm-driven flood. Other biting and bothersome insects will take advantage of the same breeding opportunities, too. To combat these problems, you need to do a sweep of your property and remove trapped water wherever you find it.
Remember, the longer the water stays in place, the more mosquitoes you'll get. With that in mind, get to this task as soon as possible. Here are some sites that can host mosquito eggs.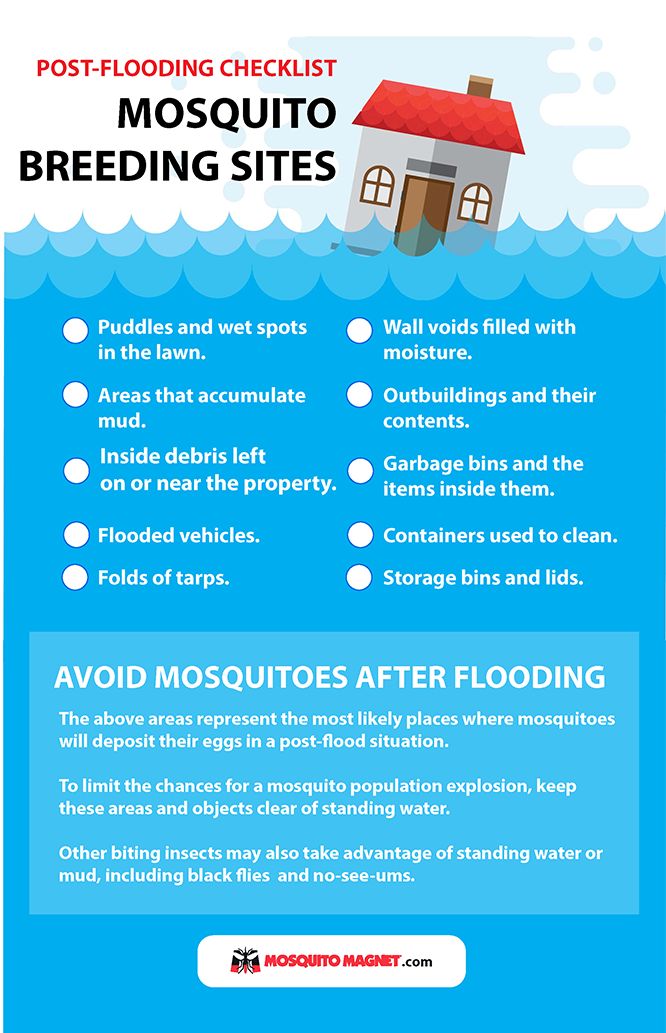 Post-Flooding Checklist: 13 Likely Mosquito Breeding Sites
Puddles and other wet spots on the property
Mud accumulations
Eaves and gutters
Debris left on the property
Debris on the outskirts of the property
Wall voids left exposed
Flood-damaged vehicles
Outbuildings and their contents
Storage bins and on their lids
Garbage bins and the items inside them
Folds of tarps
New building supplies
Cleaning supplies and tools

Let's look at each of these more carefully:
Puddles – When the floodwaters subside many areas on your property may be completely waterlogged, which is an open invitation to mosquitoes and other biting insects. Look for areas that are muddy or oversaturated and work to fill them in with more soil or water-sucking plants. Problem areas can include topographical low spots, clogged storm water drains and tire tracks that fill with water.
Mud Accumulations – As a flood recedes, sediment carried by the water is often deposited in blankets around the property or inside buildings. If it's the right consistency and moist enough, it can serve as an incubation site for a number of biting insects, including no-see-ums and midges. Do your best to remove this mud and spread it out in thin layers so it dries quickly.
Eaves and Gutters – You probably regularly check your eaves and gutters for standing water already, and after a flood, it's especially important. Clogs can occur when mud or storm debris flushes through your eaves or gutters. This results in stagnant pools of mosquito-friendly water.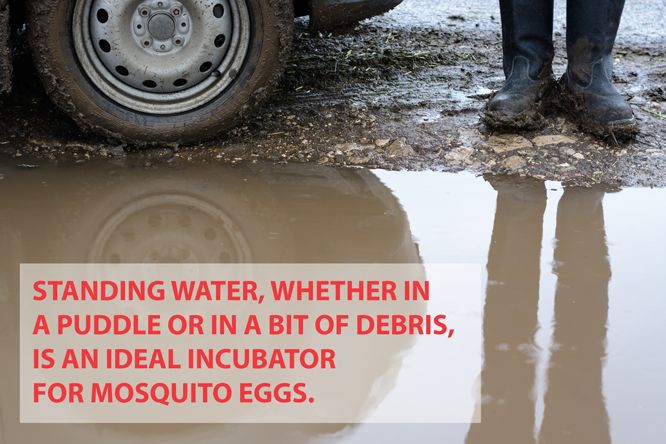 Debris – When cleanup commences on your flooded property, you're likely to have a lot of debris on your property. Some of it will be what you pulled out of damaged buildings, and some of it will have been swept on to the property during the high water stage. Make an initial sweep of this debris and empty out any trapped water. Remember that items as small as a bottle cap can sustain mosquito eggs, so be thorough.
Outlying Debris – After you've cleared away water-trapping debris from the immediate vicinity of your home, you should also make an effort to survey all the property within one hundred yards of your lawn. Assuming you're not trespassing into someone else's property, take a few hours to circle your property and remove any debris that could collect mosquito-friendly water. Mosquitoes will travel at least this far in search for a blood meal, so the farther you can check, the better.
Wall Voids – As you begin demolishing sections of your home or business, you may expose trapped water inside wall voids, which provides access for mosquitoes to lay eggs. During such construction activity, do everything you can to dry these areas out as you expose them. Also, be sure to cover up areas exposed to additional rainfall.
Vehicles – If your vehicle, whether it was your car or your riding lawn mower, was subjected to floodwaters, it may have trapped water inside that you may not notice right away. Mosquitoes, however, will appreciate such a location to deposit their eggs. Inspect your vehicle and dry out any parts of it that have standing water, including mower decks, floor areas and engine covers. If you're capable, check for water in any engine parts that may have been submerged.
Outbuildings – While not an initial concern after flooding, make sure to check sheds, garages, barns and animal pens for standing water, puddles and mud accumulations. Outbuildings, which often don't have a true floor, can collect floodwater mud that traps pockets of water. Likewise, the articles stored in these building may be holding enough water to sustain mosquito eggs.
Storage Bins – Inside and outside your home, check all your plastic storage bins for water that may have seeped through cracks or under the lid. You'll be surprised how many aren't as waterproof as you had hoped. Also, make sure no water remains on the lid or along the lip or handles of the bin.
Trash bins – Garbage cans, Dumpsters, trash bins and other waste receptacles may inadvertently collect water. Often times, these containers will have drain holes that become clogged or hold other objects that trap water. Your best bet is to seal all the contents in bags and cover the bin so new rainwater can't get inside.
Tarps – As you pull damaged goods out of your home, you may opt to save them and clean them later. To protect them from further damage, you may cover them with a tarp that can also trap water. To avoid creating these water traps, carefully arrange the tarp so it continually drains water.
New Building Supplies – If you're lucky, your reconstruction is already under way, and you've had new building supplies brought in to begin the work. These items may inadvertently collect new water and become a new breeding ground for mosquitoes. Check out packaging material, lids of buckets, tarps, boxes and other items that may collect water.
Cleaning Supplies and Tools – If you're cleaning up on your own, you may have an area dedicated to rinsing and cleaning household items. Under most circumstances, you shouldn't worry about mosquitoes laying eggs in these areas. However, if left untouched for too long, the buckets, tools and trays you were using could begin accumulating water and mosquitoes will quickly take advantage of that. Be sure to pick up these areas regularly.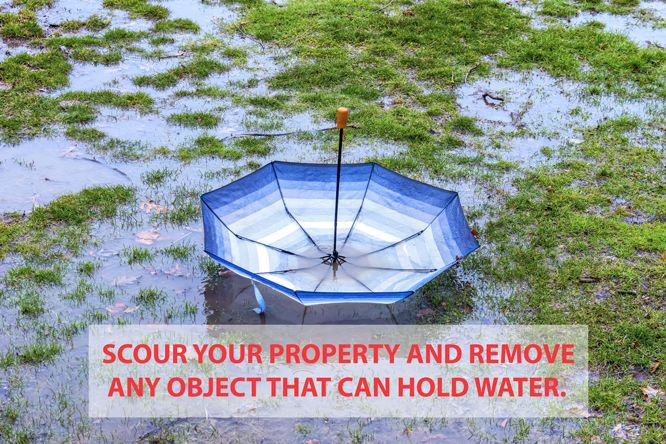 Fighting Back Against the Mosquito Swarm
Once you've removed egg sites, your mosquito problem should level off, but you still may see increased mosquito activity through the remainder of the warm season. Mosquitoes, after all, can fly and that means they are mobile. Even your best efforts may not eliminate all their egg-laying opportunities.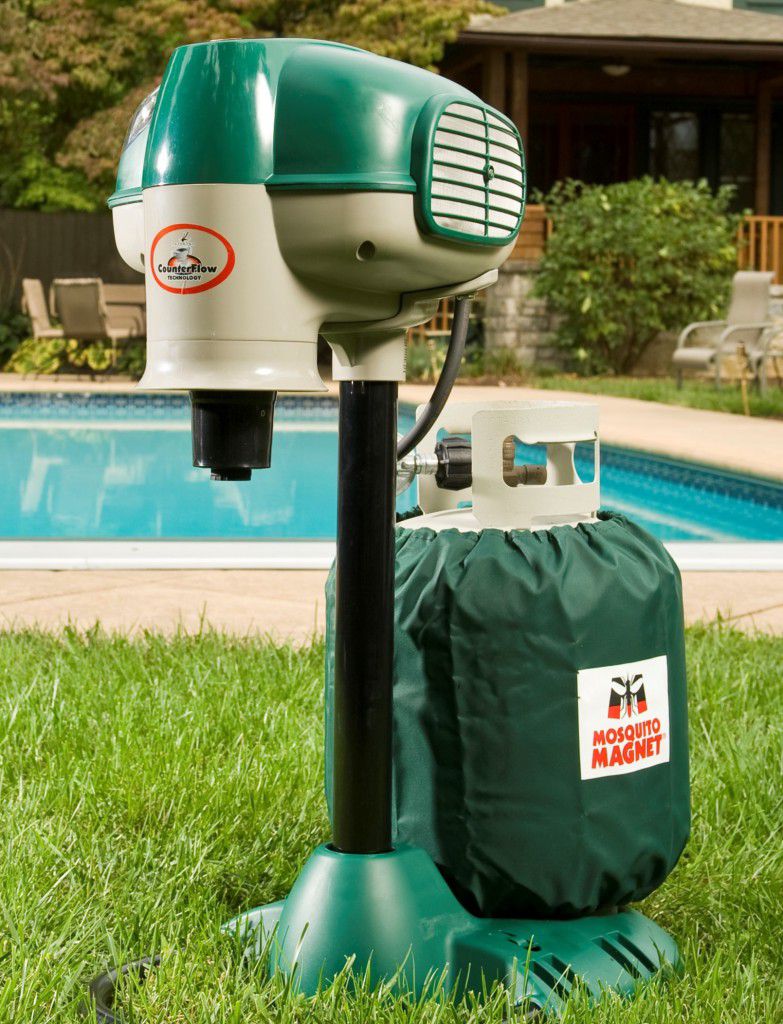 To combat the mosquitoes that do hatch, add a CO2 mosquito trap to your property. Available from Mosquito Magnet®, these traps produce a powerful lure that attracts mosquitoes and traps them before they can take a bite out of you.
Even better, when ordering online through your laptop or mobile phone, you can have a Mosquito Magnet® trap delivered right to your doorstep, often times in as little as two days.
Within 24 hours of setting up a Mosquito Magnet® trap, you'll begin to see results – fewer mosquitoes and an opportunity to work on your cleanup without worrying about your health and the annoyance of being pestered by mosquitoes.
Taking Control of Mosquitoes
Do you have any questions about how to assemble and operate your Mosquito Magnet® trap? Reach out to Mosquito Magnet® on Facebook with your thoughts. You can also contact our Consumer Care Team at 1 (800) 953-5737.
To get more helpful articles like this, subscribe to the Mosquito Magnet® E-Newsletter, which offers you tips for dealing with biting insects, help with using a CO2 mosquito trap and special announcements from Mosquito Magnet®.