Testimonials

See what our customers are saying...
Patriot Plus »
Executive »
Independence »
Image Gallery »
As the #1 mosquito trap in America, Mosquito Magnet® has a big reputation to live up to. We pride ourselves on being the only long-term mosquito control solution that is scientifically proven to effectively reduce mosquitoes and other biting insects. But what really matters is what people who have used Mosquito Magnet® have to say about our products. Check out these testimonials from actual trap owners and discover how a Mosquito Magnet® can help you put mosquitoes in their place.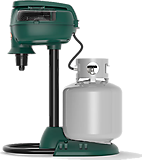 Patriot Plus Reviews
Does the job…no bites
This is my second mosquito magnet and in the upper peninsula of Michigan we breed a big tough aggressive mosquito. These mosquitoes are a sucker for my Mosquito Magnet and I remove a hundreds of them or more every few weeks.
Great service and products
We purchased two mosquito magnet for our fire station and let me tell you, IT WORKS! No more issues with mosquitoes in our apparatus bays.
Great Machine!!!
When I was stationed in Alaska for 6 years I bought my first one right after we purchased our house...Phenomenal results!!! One of the best devises I have owned. When I relocated to upstate NY I knew it was a must have for the back yard!!
New model is great!
I have used Mosquito Magnet since they have been available and rely on them so I can enjoy my outside area. I am a human pest strip for mosquitos, and even have reactions sometimes. Without my MM, I would have to stay in the house or always use bug spray....ugh! Love this machine!
Wonderful Product!
We have had our Patriot Plus for 2 months, now, and it is a lifesaver. Finally had a front porch added on, and after all this time I wanted to be able to sit out on it in the evenings. Ever since we set up the magnet, I can sit out on porch and husband can do his hobbies on driveway! I live in Florida, so you know how important having something like this is. Easy to operate and quiet...Just to let you know, I found out about this product from my brother who lives in Pa. and he has had his for about 5 years, now. Loves it!
Very nice system!
Several improvements over older models, e.g. better design of trap basket lid and much better rain protection of air inlet system. It really scoops up the bugs, rain or shine!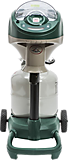 Executive Reviews
Love this Product
Living in the south this product has helped control the mosquitos around our property! Thank you so much!
Best product ever
This is the best product ever sold! We live right near wetlands and before the Mosquito Magnet we couldn't even step one foot in our back yard. It even rid the yard of gnats! I love being able to use the yard again.
Impressive design
I bought this unit about 3 months ago. Yes, it's rather expensive but worth the price. We have definitely noticed a reduction in mosquitos, gnats and another biting fly I couldn't identify. I unfortunately purchased this unit a little late in the season and missed the peak time to get those biting buggers, but still have noticed a difference. Maintenance is made easy with the removable traps. I am overall happy with the unit and am thinking of purchasing another before next spring.
Executive Features are Worth the extra price!
I purchased the Executive over the Independence after debating if it was worth the extra money. I had owned a Mosquito Magnet for 10 years at my old house. All of the problems, and changes I wish my original Magnet had the new Executive had the answers to them all with additional features that I feel are well worth the extra price.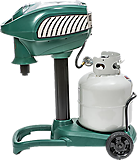 Independence Reviews
Long time user!
This is my second Mosquito Magnet. The first one lasted about 10 years. I live out in the country and have a pool. I wouldn't spend a summer without this great product.
A Rock Star
We live lakeside in Haliburton Ontario. 4 weeks ago we avoided going outside at any time - period. With the new trap between the house and dock we now walk to and sit there with almost none of the pests bothering us. The difference is like being this swarmed as this year's American Idol winner or the being the runner up from 10 years ago where nobody even knows you exist.