Mosquito Magnet® Executive & 2-Month Accessory Bundle - ATRAKTA® - All Questions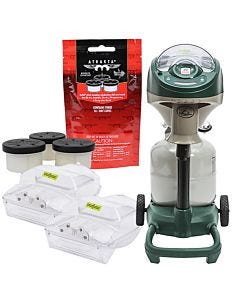 Mosquito Magnet® Executive & 2-Month Accessory Bundle - ATRAKTA®
We have an off-grid cabin where there is not power available when we are not there. How long do the batteries last and what is the process to recharge them?
Question by: Bruce Schoblaska on May 7, 2023, 3:32 PM
One charge will often last throughout the full mosquito season. To recharge the battery, AC power is needed.
Answer by: Susan (Admin) on May 9, 2023, 11:16 AM