Important Product Recall to Repair Information
At Woodstream Corporation, the quality of our products and the safety of our consumers are our top priority. As part of our consumer review process, we recently identified a potential safety issue if certain Mosquito Magnet Models are not turned off before cleaning with our "Quick Clear Cartridge" cleaning kit, contrary to instructions requiring units to be turned off prior to cleaning, if not followed, the forced air may damage the regulator. We are offering a free repair for the traps affected.
Models manufactured from 2014-2016 that are involved in this recall begin with the following serial numbers:
Patriot (MM4100) - Serial #PT01438 - PT01542
Patriot Plus (MM4200) - Serial #PT01542 - PT01642
Independence (MM3200) - Serial #IN01450 - IN01625
Executive (MM3300) - Serial #EX01444 - EX01637
What are the next steps?
1
Inspect unit for check valve.
Inspect the unit for a brass check valve installed on the products gas hose. If a check valve is present, the unit has been corrected by the manufacture before being distributed/sold. No further action is required.
Example: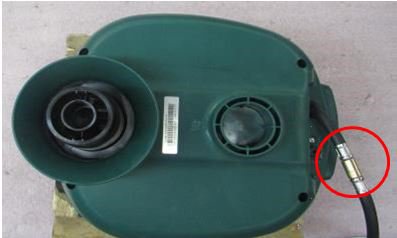 2
Obtain the serial number of your trap.
The serial number can be found on a sticker on the back of the trap.
Example:

3
Check the serial number of your trap.
To check whether your trap is part of the product recall to repair, please input the serial number in our Serial Number Checker.
Serial Number Checker
If you have any questions, please call us at 877-224-1538 or email us at consumercare@woodstream.com