Mosquito Magnet® Patriot Plus & 2-Month Accessory Bundle - ATRAKTA® - All Questions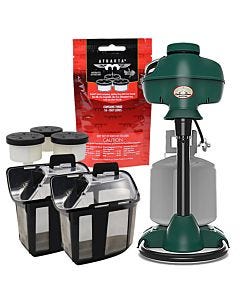 Mosquito Magnet® Patriot Plus & 2-Month Accessory Bundle - ATRAKTA®
I recently purchased the Patriot Plus and am using it with propane. As far as I know there were no attractants included. We have bunches of the mosquitos that are new to this area, with black and white markings, and they bite in the daytime. The unit with no attractants doesn't seem to be helping at all. Advice?
Question by: Ed Mathis on Sep 19, 2021, 5:33 PM
The trap will still work to catch mosquitoes without the attractant. The attractant will only help to increase the catch rate. Placement is a very important factor in the success you can expect from your trap. Make sure to place the trap about 30-40 feet away from where you will be spending the majority of your outdoor time. Place the trap upwind of the breeding grounds (such as standing water or bushes). The trap should be located between you and the mosquito breeding grounds. This will help to ensure that they find the trap before they find you! Please give us a call at 800-953-5737 for additional assistance.
Answer by: Rachel Faust on Sep 20, 2021, 8:58 AM