Help for Hotels: Keep Bugs Away from Outdoor Areas
When you're running a hotel that doubles as a resort, you have to worry about the outside of the facility just as much as you need to worry about the rooms, lobby and restaurant inside. That means you're taking care of your grounds and fighting one thing that you probably never planned to fight – nature itself.
Lousy weather. High winds. Out-of-control weeds. Poor landscaping. Peeling paint. Invading wildlife. Broken equipment. The list goes on and on, but every one of these grounds' issues are a threat to visitor comfort. You can plan or take control of them one by one through proper training coupled with a strict maintenance schedule.
Outdoor Biting Insects: The Usual Suspects
While most of your outdoor maintenance issues can be addressed behind the scenes and without disturbing your guests, insect control isn't so easy. Spraying insecticide and repellent can create major problems for guests who want to avoid chemicals and bad smells. Likewise, most insecticides dissipate after rain or in high winds, two things that may be common on seaside resorts.
Several insects can pose a direct threat to your visitors. These are the insects that commonly seek out humans, often biting to draw blood:
Mosquitoes – Major vector animals for several diseases. These insects use a proboscis to siphon out blood.
No See Ums/Biting Gnats – Swarms of these tiny insects can leave welts all over the skin as they seek a blood meal.
Gnats/Non-Biting Midges – Tiny, annoying flying insects that linger around a person's face. They'll fly up the nose, in ears or eyes.
Black Flies – Biting flies that need a blood to fuel the growth of their eggs. Sometimes called "buffalo gnats."
Fleas – Jumping insects that can live in grass or on pets. They typically bite people around the ankles.
Ticks – Parasites that dig into the skin to withdraw as much blood as they possibly can. These creatures can carry numerous diseases that are harmful to humans.
Horseflies – Large flies that deliver an extremely painful bite. There's nothing like the scream of a person who was just bitten by a horsefly!
Dealing with Bees, Wasps & Hornets
Why aren't bees, hornets and wasps on the above list? These insects don't actively seek out people. Instead, they only bite or sting when they feel threatened. Still, make sure your maintenance team's efforts are focused on keeping these insects away as well.
These insects are most likely to enter your grounds for food or nesting. With that in mind:
Quickly remove unwanted food from areas where visitors congregate. Food that's left out can be a major wasp, yellowjacket and bee attractant.
Maintenance should empty waste containers on a frequent, regular schedule (Not just once a day).
Store garbage in an area secluded from your outdoor amenities until it is removed from the site.
Be extremely vigilant in the quick removal of nests built by aggressive wasp and hornet species.
Instruct your staff on the difference between bees, predatory wasps and aggressive species such as yellowjackets. Both bees and predatory wasps should be encouraged on the property!
Large infestations should be dealt with professionally.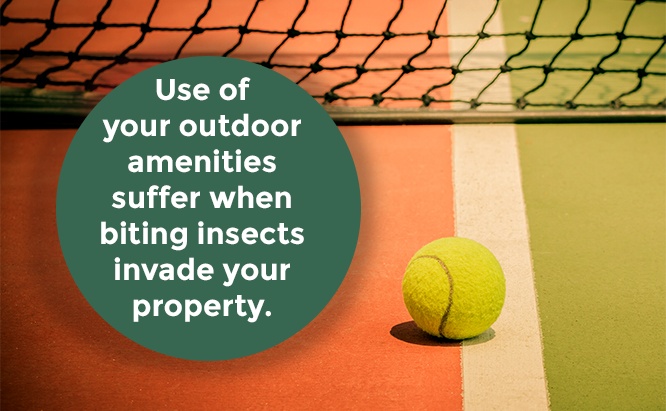 Your Amenities and What They Will Attract
Assuming your hotel or resort is in the right climate, here is a rundown of the kinds of insects you can expect your visitors will encounter.
Outdoor Insect Problem Areas for Hotels & Resorts, Figure 1
Mosquitos
No-See-Ums
Gnats
Black Flies
Pool/Sun Deck
Hot Tub
Dining Area/Bar
Courtyard/Flower Garden
Sports/Athletics Court
Kid's Play Area
Balconies
Outdoor Spa Center
Walking/Biking Path
Outdoor Insect Problem Areas for Hotels & Resorts, Figure 2
Fleas
Ticks
Horseflies
Bees, Wasps & Hornets
Pool/Sun Deck
Hot Tub
Dining Area/Bar
Courtyard/Flower Garden
Sports/Athletics Court
Kid's Play Area
Balconies
Outdoor Spa Center
Walking/Biking Path
How to Battle Biting Insects Without Spraying
The worst of the biters – mosquitoes, no-see-ums and black flies – as well as non-biting gnats, can be quickly targeted with a CO2 insect trap from Mosquito Magnet®. These traps don't use an insecticide, so they won't agitate your guests. Instead, they emit an attractant that draws these insects to the device and away from people.
As soon as the mosquitoes and other bugs fly close to the source of the smell, they're vacuumed into the machine where they're trapped in a net. Within 24 hours of capture, they die of dehydration.
This no-spraying solution is a perfect for hotels and resorts that make guest comfort a top priority, and, along with your other services, help you earn rebookings and great online reviews.
To learn more about how C02 insect traps work and how they can benefit a facility like yours, check out the Mosquito Magnet® Guide to Mosquito Control for Resorts & Hotels. Be sure to sign up for the Mosquito Magnet® Rewards Point plan, which earns you money back for use on future purchases.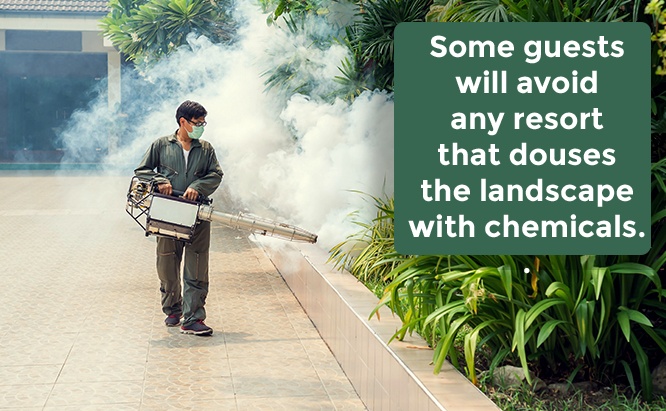 Help for Your Resort or Hotel from Mosquito Magnet®
Turn to Mosquito Magnet® when you're ready to take care of your biting insect problem without having to spray for mosquitoes, no-see-ums, gnats and black flies. With Mosquito Magnet® you get a dedicated Consumer Care team, regular updates on Facebook and an E-Newsletter that gives you tips on outdoor event planning and links to helpful articles to keep your hotel from being overrun by mosquitoes and similar insects.